Advantages and Unique Features of Pad Printing
Pad printing opens up new possibilities which were not available with traditional printing processes, or which could be exploited only with great effort. To some extent, pad printing also replaces other decorating processes, such as screen printing, labeling and hot stamping. The form used for pad printing is a plate of etched steel or washed out photopolymer. As with intaglio, the image printing elements are contained (etched) in the non-printing surface. During a printing operation, the plate is covered with ink, the excess is doctored from the surface of the plate, and the ink for the print remains in the depressions. A soft, elastic pad then transfers the ink from the depressions onto the substrate. The areas of application are so extensive that dozens of pad printed articles are encountered every day in the form of commercial items, such as lighters, ball pens and toys, as well as housings, switches, keys, knobs and buttons in the automotive and electronics industries.
2
Printing of firm, hollow objects
3

As indirect intaglio process, capacity to print fine subjects
4
High resistance properties of inks
5

Easy handling with little maintenance
6

Multi color wet-on-wet prints
7

Short change-over times, especially suited to small jobs
8

Low up-front costs for printing run
9

Relatively small space requirement
11

High speed in rotational systems
12
Integration into complex systems: online in assembly and production lines
13

Less attention required for ink in sealed systems, e.g., consistency of viscosity
14

Use of variety of printing media, e.g., lacquers, adhesives, pastes, inks
15

Precise adjustment of tones
Pad Printing Machine
Buyer's Guide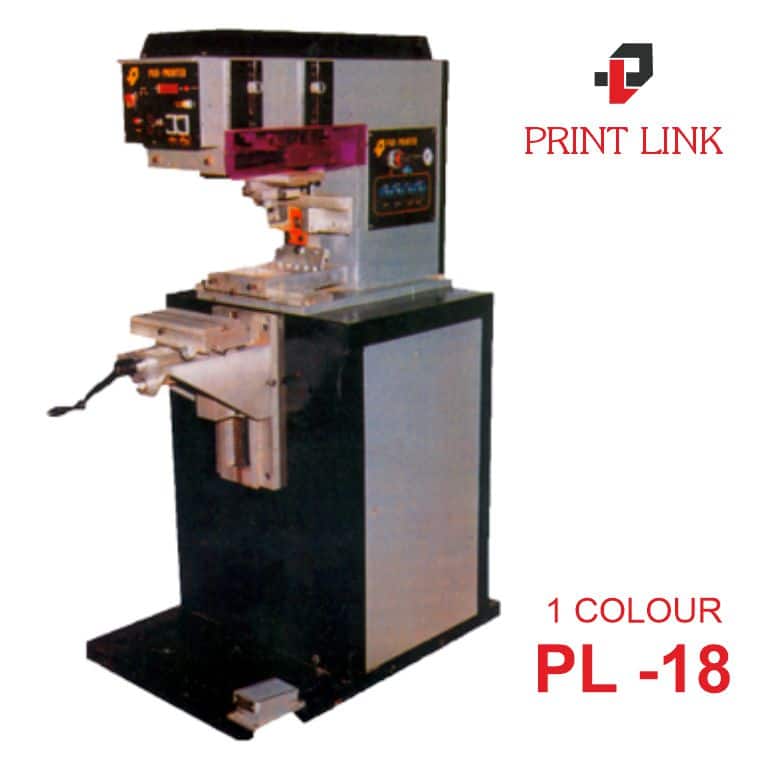 Pad Printing Machine are available in a great variety of sizes, versions and with different drives. The printing pad, cliche and ink system are the elements common to all types. Differences are seen in the physical structure and layout of the components, as well as the movement patterns.
Pad Printing Plate
Buyer's Guide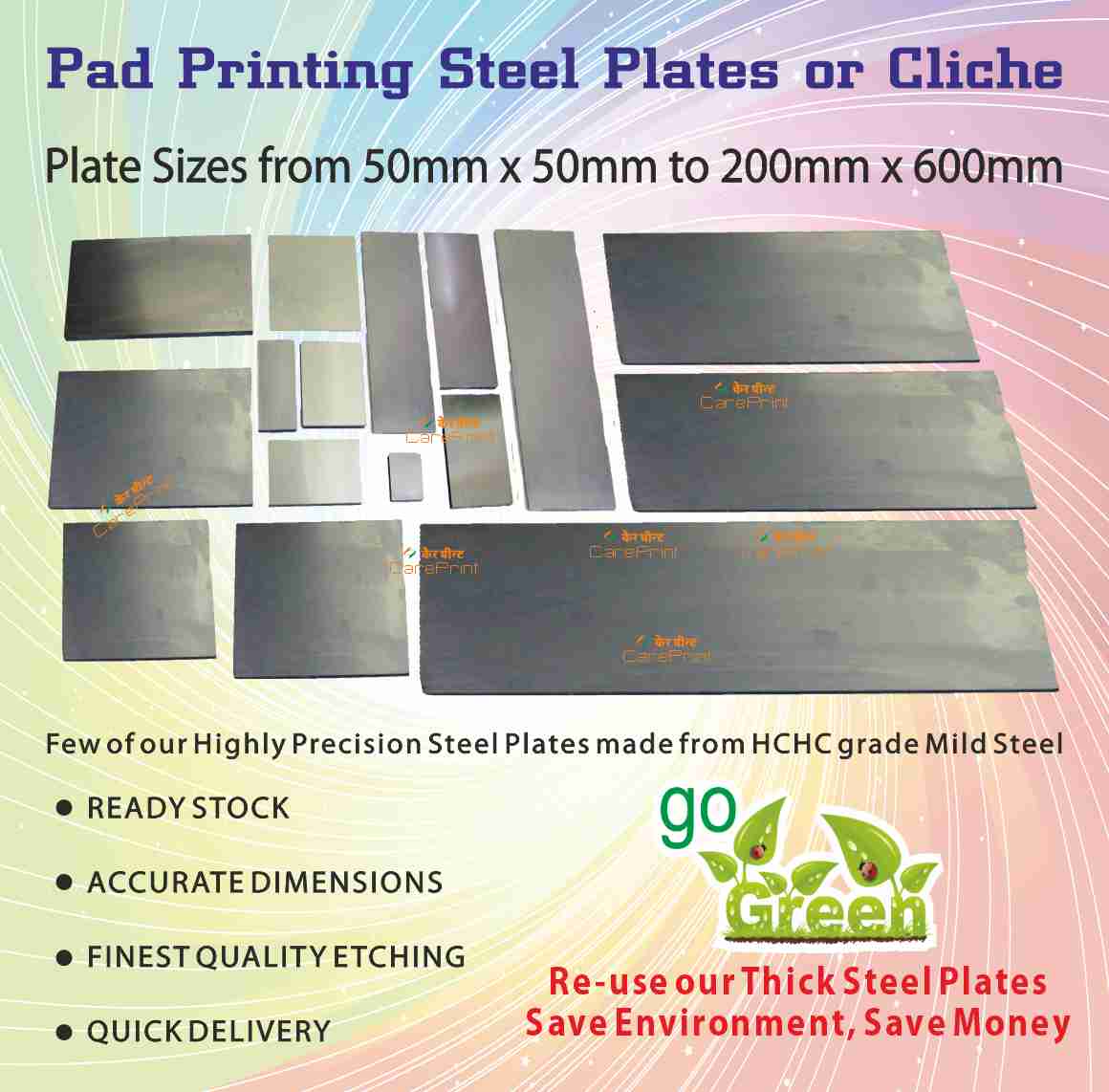 Closed Cup Machine or Open Ink Well Machine – Plates No Problem!!! We always have a ready stock of large variety of different sizes of Cliché Plates or Tampon Plates. We have around 65+ sizes of plates ready for the customer. Our Steel clichés are especially suited to high quantity printing.
Pad Printing Silicone Pad
Buyer's Guide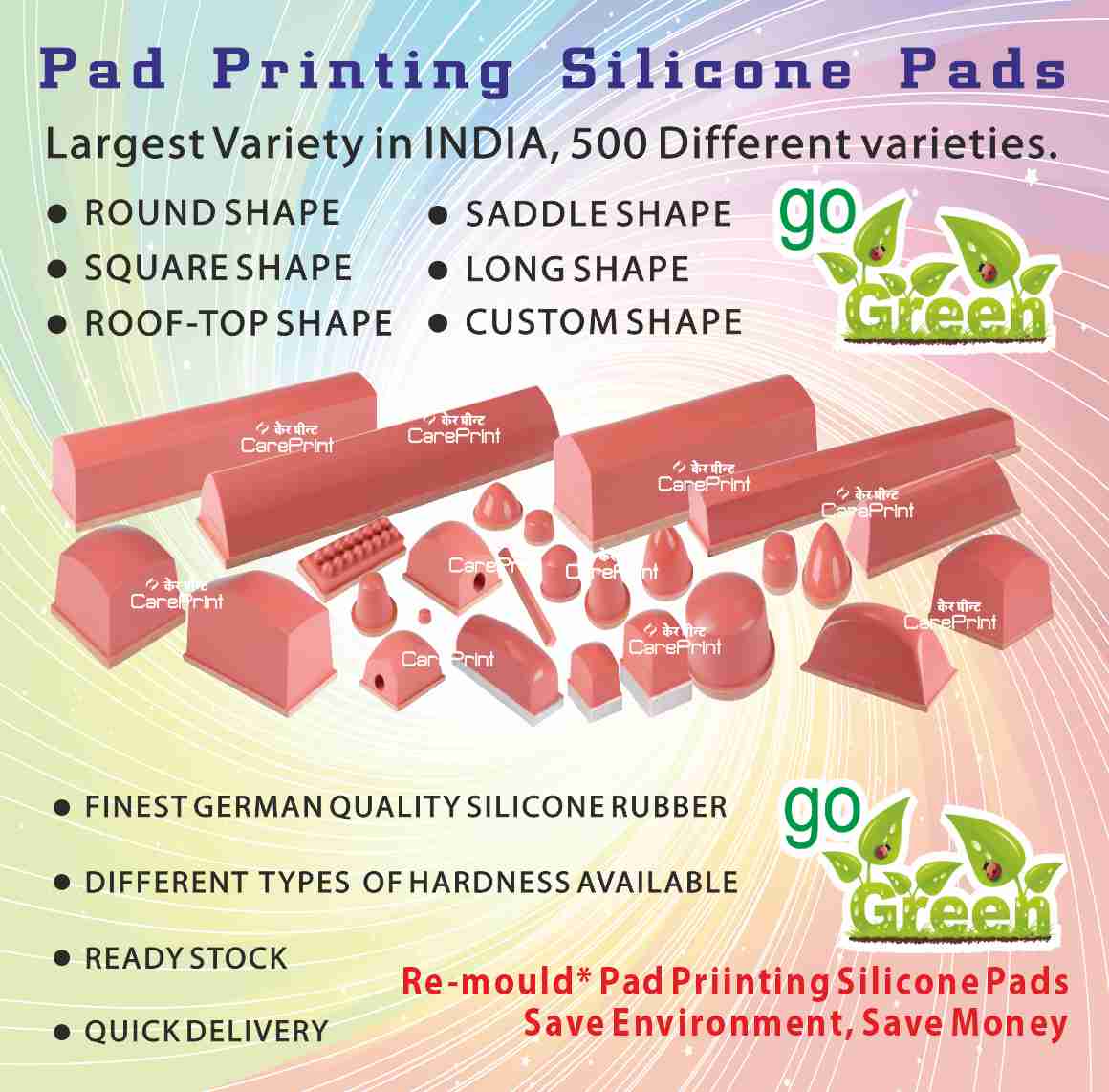 The pad receives the motif from the cliche, transfers the ink film to the substrate and deposits it there. The pad must be constructed so that it is pliable, but guarantees transfer of the motif without smudges or blurring.Printing pads are made of silicone rubber and produced as stamps in a wide array of shapes, hardnesses and qualities.
Pre-Treatment of
Plastics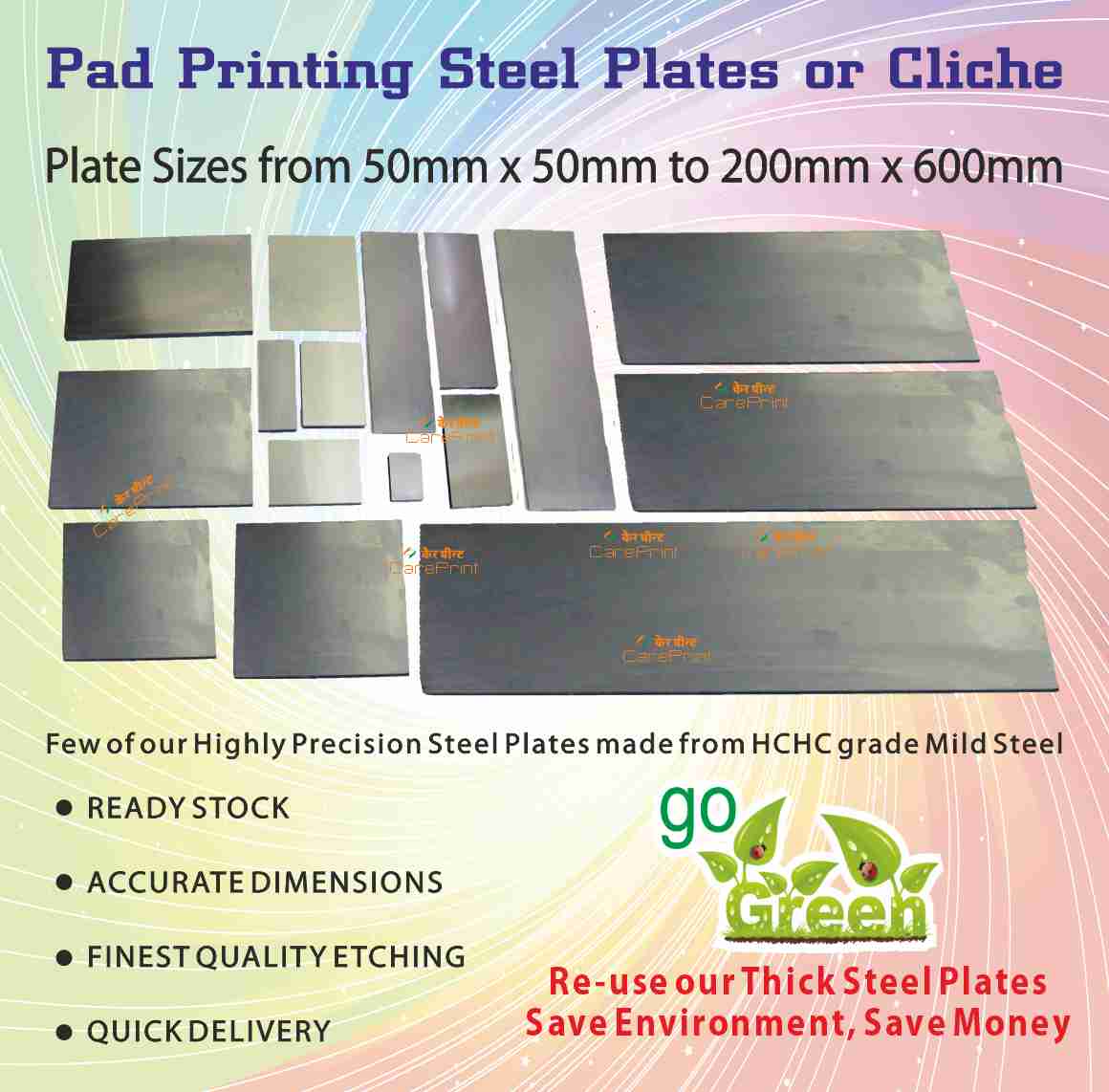 Plastics such as polyethylene, polypropylene and polythene will not accept print in their natural state. For a plastic to accept ink, it is necessary for it to be wettable by that ink. For this to be so, the surface tension or surface energy, measured in dynes/cm, must be greater than the surface tension (energy) of the ink.
Pad Printing Machine
MADE IN INDIA with Festo Pneumatics or similar
Robust and Sturdy Structure

All Machines are Make To Order

Price starting @ INR 1,50,000 * for SINGLE COLOR

Quick Customer Service and Feedback

Factory Visit in case of Major Requirements

Online FAQ, Support HUB, Chat Facility